Love a shiny and elegant car that looks like it's fresh out of the showroom? Unfortunately, it's hard to keep your car looking like that if you've been using it for a long time. But it certainly isn't impossible. Keep washing and cleaning your car regularly with Permagard car shampoo and a microfiber towel. The bottom line is, if you take good care of your car and take it to a car detailing professional, you will have a perpetually new-looking vehicle.
Car Detailing transforms your car completely and prolongs its life too. But it is a complex and time taking procedure. Even a slight mishap can leave you with a shabby-looking car. So no matter when you get your car detailed, you have to take it to a professional who knows what they're doing. 
But how do you find the right car detailing professional that excels at both interior and exterior car detailing? To know all that, keep reading!
Things to Look For in a Car Detailing Professional
Researching car detailing professionals near you? Look for the following qualities and factors in them before zeroing in on a detailer.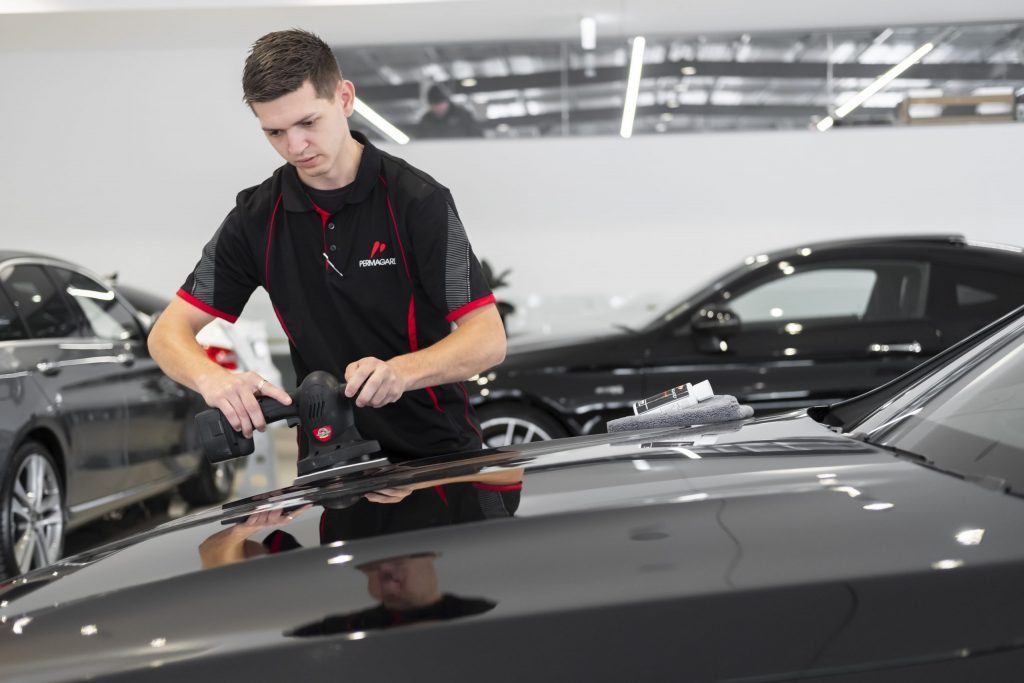 Customer Reviews
One of the best ways to determine the quality of a detailing professional is by looking at his customers' reviews. You can look at customer reviews on the professional's website or on their Google My Business Page. Sometimes, you may even ask around and talk to their old customers offline. 
If they've had a good experience, you can safely trust the detailing professional with your car. But if you see a pattern of negative reviews, it might be a good idea to find another car detailer. 
Tools used for car detailing
Whenever you consider car detailing, whether it be exterior detailing or interior detailing, you must always know which tools are being used by the professional. Check if they're using professional, high-quality products like the Permagard Paint Protection Shield. Many car detailers cut corners when it comes to using high-quality products, and these are the ones you should avoid. 
Several tools are used for the car detailing process. Cheaper detailing professionals avoid using these tools because they are costly and demand maintenance. But, avoiding the use of professional tools will lead to shabby work on your car.
Expertise and quality of work
While this point is pretty obvious, people often don't thoroughly examine the previous work before choosing them. You must talk to the professional before handing them your car and look if they are communicative and patient. Some professionals might even have pictures or illustrations of previous work. Taking a good look at them can always help.
Avoid them if the detailing professional is not being communicative and isn't ready to educate you on the process. Apart from this, also check if the professional is an expert in both interior and exterior detailing and not just the latter. Make your expectations clear in the beginning, and see if the detailer hesitates while accepting work. If they do, move on to another professional. 
Affordability 
The car detailing process is costly in itself. But some professionals charge unnecessarily high. Do enough research and keep a budget ready in advance. This way, you will have a reference of how much the professional should reasonably charge. If you feel that he is charging more than the estimate, question the expenses and ask for a breakdown.
But having said this, also make sure that the estimate that you create is wholesome. Do not consider cheaper work for making the process affordable. The price might be high, but that is the cost of good, elegant work.
Variety of services
One must look at the variety of services that the professional provides under the car detailing process. Detailing involves a lot of sub-parts, including dent-fixture, painting, interior car detailing, etc. 
What services you want to avail of is always your choice, but a good car detailer will have most services ready for you to consider.
Conclusion
These are some of the top factors to consider while choosing your car detailing professional. Since your car is important and the detailing process a hefty one, choose the detailing service wisely. Apart from the pointers mentioned above, also check the time the detailer takes for the process. And most of all, be proactive and attentive while the expert attends to your car.