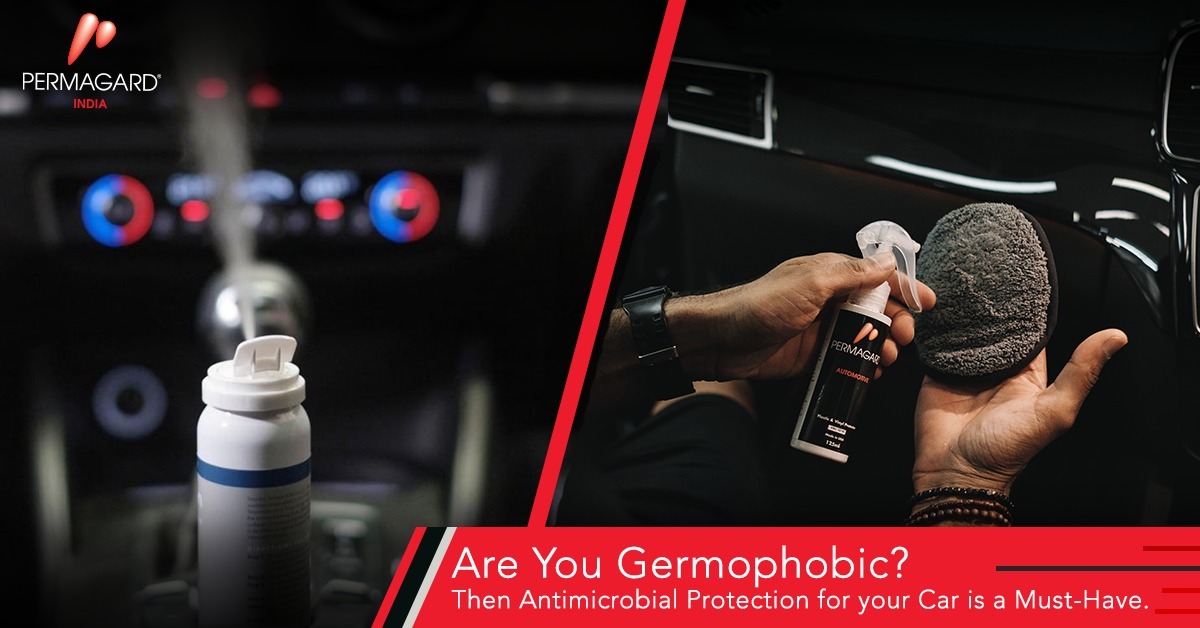 Antimicrobial Protection : Every day many of us spend around 3 – 4 hours inside our cars as we travel through sloppy water, potholed streets and smoggy congested driving conditions. Yet, along with these, there are several other ways from where germs enter into our cars. In addition, they also show up when we eat inside our cars or travel with our pets, and so on.
We do maintain and take care of our cars' paint. Cleaning, washing, and drying in order to protect them. But, just cleaning the exterior of our car is not adequate. Despite the fact that we invest the most energy cleaning the car from outside, we overlook the cleaning of the interiors. Even when most of our time is spent inside the car.
Research demonstrates that the car's interior is the perfect breeding ground for germs. Because of empty packages and water bottles, used tissues and pieces of food we leave off when we eat in our cars, bacteria multiplies.
These germs are undetectable to the eye and they breed on floor coverings, situate covers and under the seats. Left untreated, these germs can turn out to be the cause for ailments like asthma and several allergies.
Therefore, if there is an ideal way to keep one's car interior completely sterile and clean, it is Permagard Car Care, a treatment implied to keep vehicle insides 99.9% without germs. Permagard provides the best Antimicrobial Protection.
Importance of Keeping Your Car Clean & Hygienic
Keeping a clean and hygienic car may appear glaringly evident to certain individuals. However, numerous individuals do not realize exactly how significant it truly is to keep your car clean.
Many people let the interiors of their cars to get dreadfully filthy. Supposedly if they lived in similar conditions in their home they are more prone to get caught by serious ailments and diseases some of which are dreadful hence they always clean, sanitize and find reasons to make their home germ-free or at least diminishing them, likewise, it is also important to clean our cars and try to keep them germ-free.
Individuals may perceive this reason why it is essential to keep the car clean. Cleaning the car's interior disposes of unsafe microbes that can gather on steering wheels, upholstery and dashboards.
Germs are not visible, but they make your car unhygienic!
People tend to pass judgment on a circumstance by the manner in which it looks. We would all be able to identify the open bathroom heebie-jeebies! Accepting as it looks grimy, it will be a hazard, and so we avoid potential risk to wipe down the seat or lay down bathroom tissue.
When we get into our cars, we along ourselves bring in the outsides filthy dirt, germs and microbes that get on to our clothes and footwear. We regularly perform various tasks, a few of us have children and pets already, bringing a progressing stream of dirt and grime into the car.
As you do not sanitize the surfaces, layers start to assemble, and when the sun splits out, the car warms up making the vehicle the ideal reproducing ground. It just takes around 30 minutes at 30 degrees for microorganisms to multiply!
Our psyches regularly disregard to consider the primary reasons why our car's interior is generally dull in shading. On the off chance, it is possible that we cannot see the dirt, which makes it the most part to leave it and let them build and fester. We are additionally inclined to accepting the fact that our 'own space' will not be much of a risk than a visit to a bustling open public restroom.
Antimicrobial Protection – Get Rid of Germs
Permagard's Antimicrobial Shield eliminates germs, using a highly efficient antimicrobial formulation against microbial culture. This technology ensures that your car's interior remains 99.9% microscopic organisms free.
This spray based product cleans and sanitizes your car's interior, Lysis technology attacks and kills viruses and germs by puncturing the cell membrane of the microbes destroying its structure completely.
Microscopic pin-like defendants coat the surface, to kill the pathogens by piercing and rupturing the wall before it settles and penetrates onto a surface. Some of the highly excelled services are:
The hypo-allergenic properties of this treatment allow it to be used in confined environments such as cabins and cockpits.
By killing germs at a non-toxic microscopic level, rather than using alcohol, dehydration or poison.
Improves security from germs
Being a spray form it does not leave behind any oil stains
This methods of protection ensure the bacteria and microbes from the outside cannot impact the passengers of a vehicle
Once applied, all treated surfaces will be protected for an extended period of time
Permagard Antimicrobial Shield gives a Certificate of Assurance, pronouncing that it has expelled 99.9% of germs. Top-class affirmation organizations have agreed with this assessment. We would suggest you get this treatment once at regular intervals.
Permagard Antimicrobial Shield works to eliminate
Microbes
Stains
Mould and mildew spores
Stubborn odours
Permagard Antimicrobial Protection Treatment
Making a monthly or weekly schedule to keep your car clean and hygienic is an extremely basic approach to shield yourself and your friends and family from illness or spreading germs.
To kill and finish harmful microscopic organisms prowling in your car, Permagard's antimicrobial protection is a much-needed refresher truly.
The quality and cleanliness of a vehicle are held in high regard for Permagard, to ensure its remains safe for the health of its passengers.
It is a remarkable method to guarantee genuine feelings of serenity, shielding you and your travellers from regular nasties and potential invasions inside the solace of your car. Making it look fresh, smell new, and feel nice.