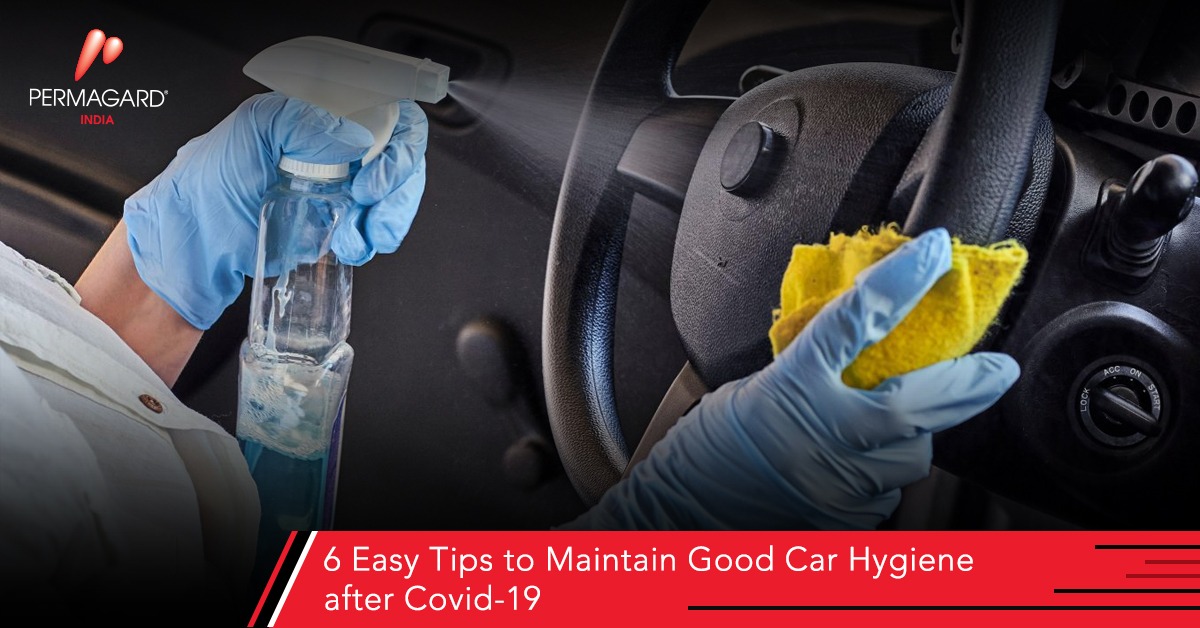 Are you really a car lover?
Then let's drive back in time to those beautiful days when you saw a supercar zooming past the roads of famous hotspots of your city.
Just within 2 Seconds, all ears and eyes turned to the Growling Loud Shots of sound Made by those speedy road riders. You could easily spot a Porsche, Lamborghini or Maserati gliding on the curvy roads. Be it the Marine Drive in Mumbai, Riverfront in Ahmedabad or Busy streets of Bengaluru.
The excitement and surprise was the same everywhere. Life was all good until Covid-19 was reported and eventually we saw lockdown getting imposed all over our country.
Deserted Streets, Deserted Highways. Jam packed parking in the basements of residential societies. An unexpected long break on our journeys and commute.
But we have to agree, that Covid-19 made us realize the importance of hygiene.
Also Read : Tips On How to Clean, Disinfect, and Sanitize Your Car During Coronavirus Crisis
Hygiene for all enclosed spaces like cars, homes and offices. So much, that now we even ensure cleanliness for all the high touch surfaces.
Things have Changed!
As per the recent study scientists decoded how airflow inside car may affect Covid-19 transmission risk
Well that's how Permagard India comes up with this latest blog that helps you ensure best Car care and hygiene in COVID after everything resumes back to normal.
So, lets' start with,
"Why you need Good Car Care and Hygiene in COVID?"
Today's Cars have host of super rich features that go beyond the basic purpose of only driving and travelling.
We charge our smartphones
We talk to people by using smart speakers
We install good music system
We eat snacks bought from a drive-in
We carry our pets in them
And the list keeps expanding.
All these points are mostly related to the car interiors. It's because, enclosed spaces are more prone to germs build-up.
Whereas Car Exteriors will always catch your attention and they'll anyways get a nice car wash every morning.
But, Germ Hotspots are found on both Car Exteriors and Car Interiors. And before going deeper, let's pick up the reasons on the need of Good Car Care and hygiene in COVID.
4 Important Reasons to Maintain Car Hygiene
Dust Formation: Even after you ensure that all surfaces are wiped with utmost care, dust will always find its' way through the tiny pores found on the surfaces.
Dirty Hands: You pick up things, you touch clothes and you work on so many other stuff by using co-ordination of both hands. And when your hands are not washed properly or missed sanitization, then the risk of bacteria and virus strains spreading from one surface to another increases beyond imagination.
Food Stains: The Coffee you sip inside your car, the meals you eat and the little amount of oil leaking from your tiffin box, if leftover on interiors, will spoil the fabric and texture. These stinky stains will even spoil the air you breathe inside your car. So, that's quite unhygienic and will demand good amounts spent on replacing the car interiors.
Infrequent Cleaning: It's pretty understandable that you are working hard and find less time to get your car washed or cleaned on a daily basis. It may even happen that you have to travel long distances for commuting to work.As a result, the exteriors and interiors of your car will go through build-up of germs, microbes and harmful contaminants that go unchecked and are not visible to our eyes.
Also Read : Do You Really Need Paint Protection for Your Car?
So, this is how so many things go unnoticed. And if not addressed quickly, they may even lead to Illness and other diseases being contracted to the persons who use your car or accompany you.
Now, you have gained pretty good knowledge on how enclosed spaces get infected with contaminants.
So, let's shift gears and pick up some speed to visit our next spots:
High Touch Surfaces of Cars
These are the Car Surfaces that are frequently touched by us because of their major applications and purpose.
And here we'll focus on the major ones that are way too important to maintain good Car hygiene in COVID. So, here they go:
Steering Wheel
Dashboard
Gear Lever
Display Screens
Air Conditioner Vents
Door Handles
Door Armrests
Car Seats
Car Floor
These 9 surfaces are most exposed to bacteria, germs and unwanted contaminants.
But, is there a way out? Of course.
So, here we have prepared some special tips to clean high touch surfaces and ensure the best of Car hygiene in COVID
6 Easy Tips to keep your Car Clean
While so many experts will suggest you to get antibacterial cleaners and do more than expected for your car.
Well, now you can skip them. As these tips are super easy to perform and are super helpful.
Let's go through them:
1. Use a Microfiber Cloth:
As you'll start using display screens for tuning music and attending calls, your hands will touch the screens quite frequently.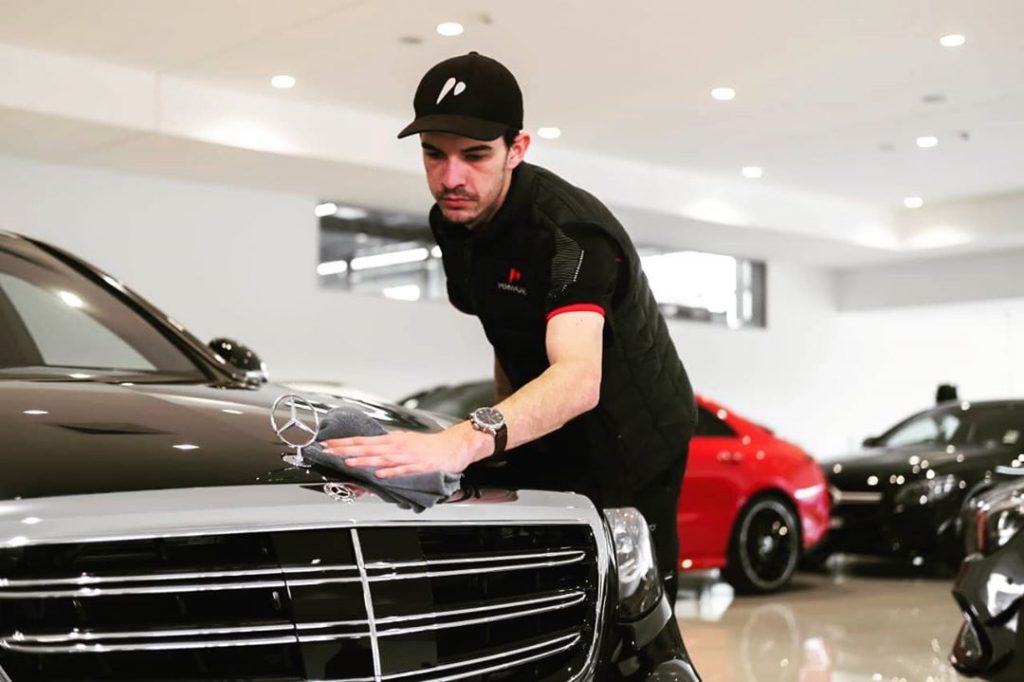 So, its' best to always keep a good microfiber cloth in your car.
Also Read: HOW TO GET BACTERIA FREE SURFACE BY USING A MICROFIBER CLEANING CLOTH
A Microfiber Cleaning Cloth is super savvy when it comes to picking dust and wiping surfaces, that too without using chemicals.
This super soft cleaning cloth is durable and is also suitable for quick cleaning of exterior and interiors.
2. Get Car Disinfection:
Sounds a big task, but now it's simple.
There some good DIY Antimicrobial Disinfectant Spray available online, that'll take just 6-7 minutes to reach the nooks and corners of the car interiors.
Plus, just one application of these Disinfectant will protect your interior spaces from Germs, bacteria, microorganisms, Covid-19 type virus strains and various other unwanted contaminants.
In fact, we would even recommend you to try DIY Antimicrobial Shield Disinfectant by Permagard India. It lays a shield over the interiors at an ultra- microscopic level.
Why Disinfection is needed: It's because of Dust clogged Air Conditioning Vents, Seats, Dirty Car Floor and whole interior space.
3. Clean the Interiors:
Your car welcomes a lot of visitors. Right from your family members to your colleagues and your friends. Sometimes, you'll even carry your pets in your car.
And this makes car interiors a potential breeding ground for microbes, dust, bacteria and germs.
Even all the surfaces touched by these passengers, will receive germs and dead skin cells, as well.
So, it's better to be well equipped and get a good car interior treatment done for the interiors.
A Car Interior Treatment that preserves the texture of upholstery and fabric. One that's super hydrophobic and easily repeals water. One that saves car interiors from food stains too.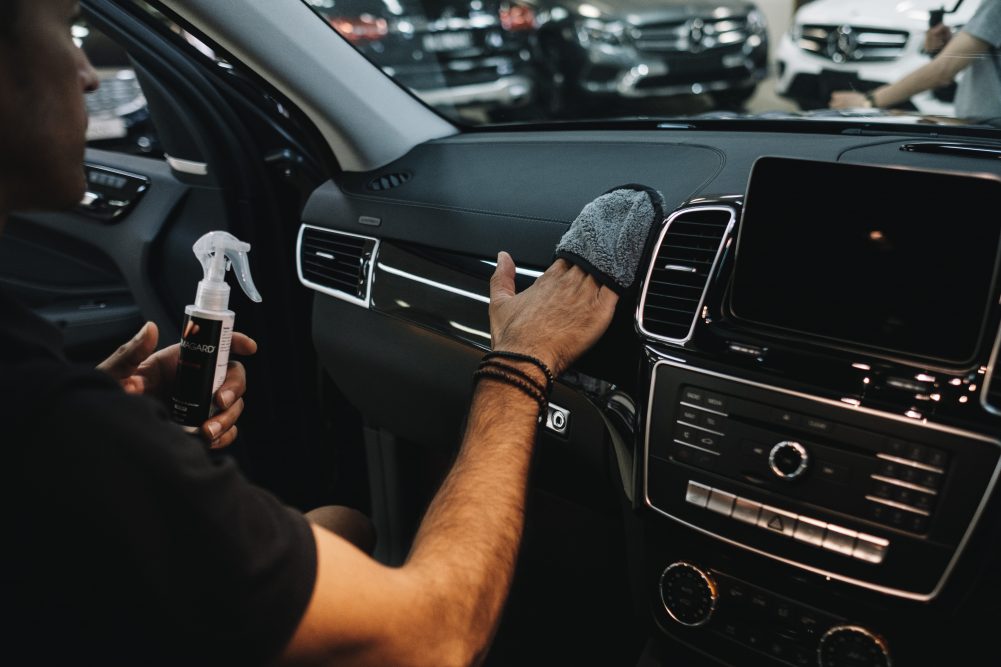 Well, Permagard's Car Interior Treatment successfully delivers all
These benefits and has even more benefits in the long run.
Areas that demand Interior Treatment: Dashboard, Steering Wheel, Hand Brake, door armrest, gear stick, car seats and car floor.
4. Carry a Hand Sanitizer
By now all of us are already using hand sanitizers at regular intervals.
But its' important to ensure that we never run out of sanitizers while travelling to work. It is even recommended to sanitize your hands before touching the door handles and steering wheel.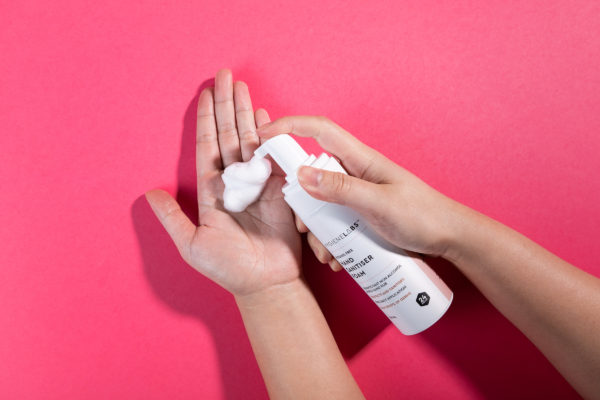 This small act will help avoid transmission of germs from driver's hands to the car surfaces
5. Routine Car Wash:
Now this may seem an everyday affair.
As you may be getting your car washed before you leave for your office.
But, your car needs more than water and normal cleaning agents.
Buying a good car shampoo will ensure that the car receives a good shine along with top class cleaning.
It's always recommended to use a pH Neutral Car shampoo that even protects the painted surface and leaves no hardness or marks.
Wish to buy a Good Car Shampoo?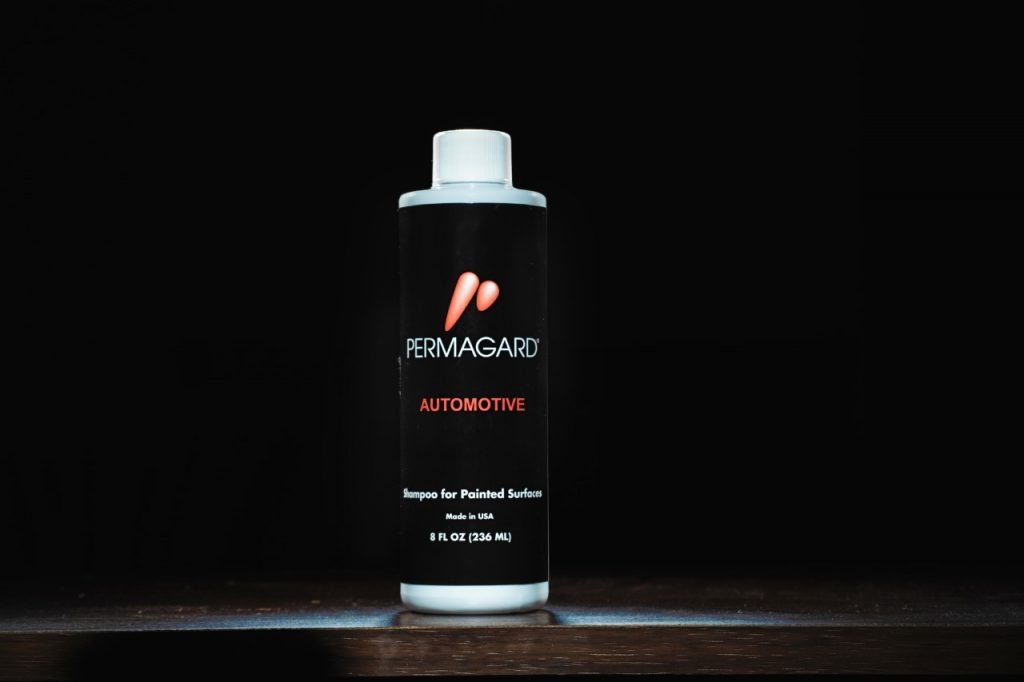 Come, check out the Bestseller- Permagard Car Shampoo.
It's fast gaining trust by Vehicle owners from all across India
6. Care for Exterior Surfaces:
Your car travels by different roads, streets and traffic zones.
It's even parked at different places. From basement parking of home and offices, to public parking spaces. And the chances are always high that:
Someone drops liquid on it
Road and Mud Grimes get stuck on them
Car Roof may get Bird Droppings
Even tree leaves might wilt and fall on it
Or, a kid sticks his chewing gum on it
The possibilities are too many.
So, it's better to get ready to brave all these challenges with a tough treatment. A treatment that resists and protects your car exteriors from all these unwanted issues.
And the solution is?
Obviously, the one and only "Car Exterior Treatment".
If we take Permagard India's Car Exterior Treatment, then it'll not only protect your car's exteriors from sticky substances and road grimes, but it will also:
Provide protection for Car Paint
Defend Discoloration caused by harmful UV Rays, and
Will Preserve the Gloss and Shine of your Car
So, this is how you can stay ahead and protect your lovely car while you are getting out after Covid-19.
Well now you have have all the tips & tricks to ensure best car hygiene for you and your family. But, instead of exploring for so many products available in the markets, we have come up with an All in One Solution for you.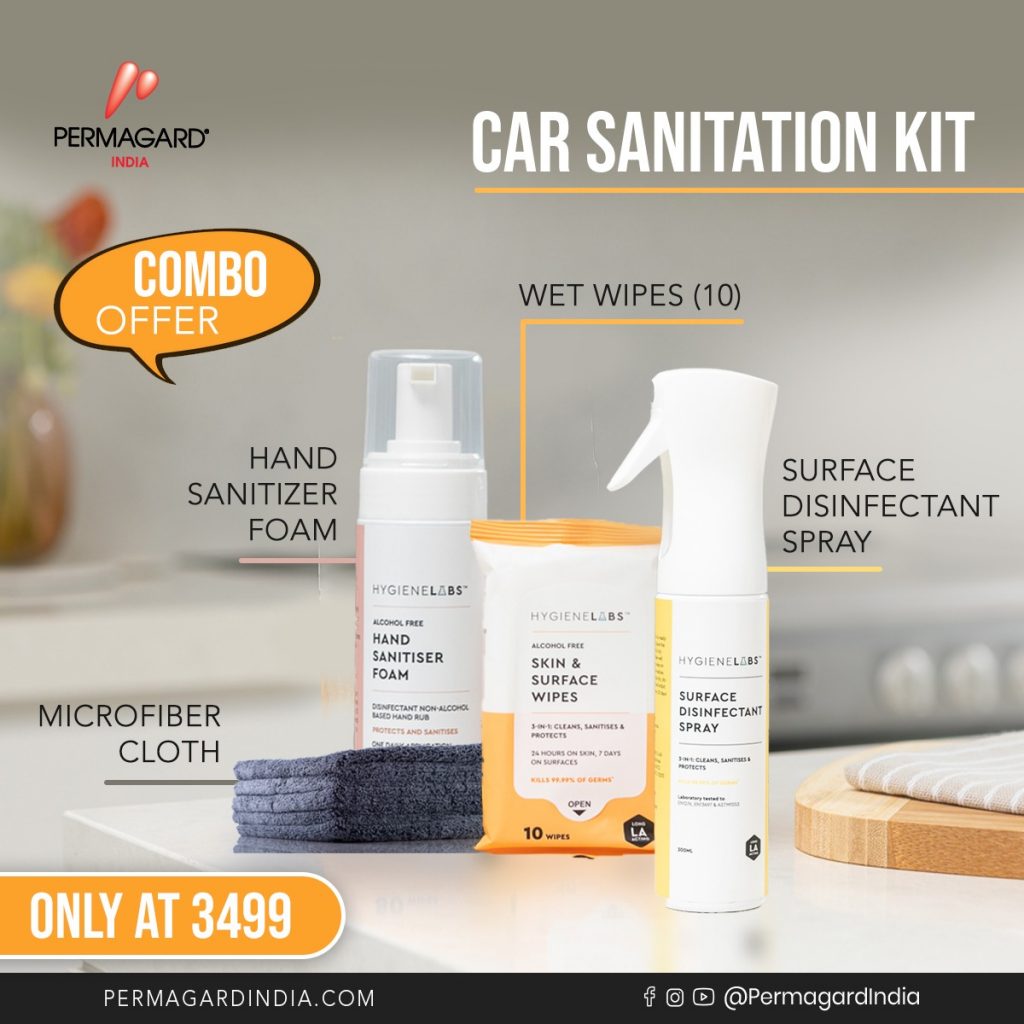 Right from Cleaning to Disinfection and to maintaining the surface longevity, a car sanitation kit is recommended to answer all the needs of cleanliness and hygiene.
• 1 Hand Sanitizer Foam
• 1 Surface Disinfectant Spray
• 1 Pack of Wet Wipes (Pack of 10)
• 1 Permagard Microfiber Car Cleaning Cloth
Check out this Car Sanitation Kit that takes care of you and your family's health when there are so many contaminants out there with possible harming capacity.
Permagard India always stands committed to make your journeys comfortable as well as Car Care and hygiene in COVID. Because your Car deserves care and comfort too.
Wish to Learn More about Car Care?
We have curated really interesting blogs that will
Help you learn exciting facts about Car Care and Hygiene.
Plus, we are posting amazing stuff for car owners
on all our social media pages.
For all your Queries, feel free to reach out to us at
help@permagardindia.com