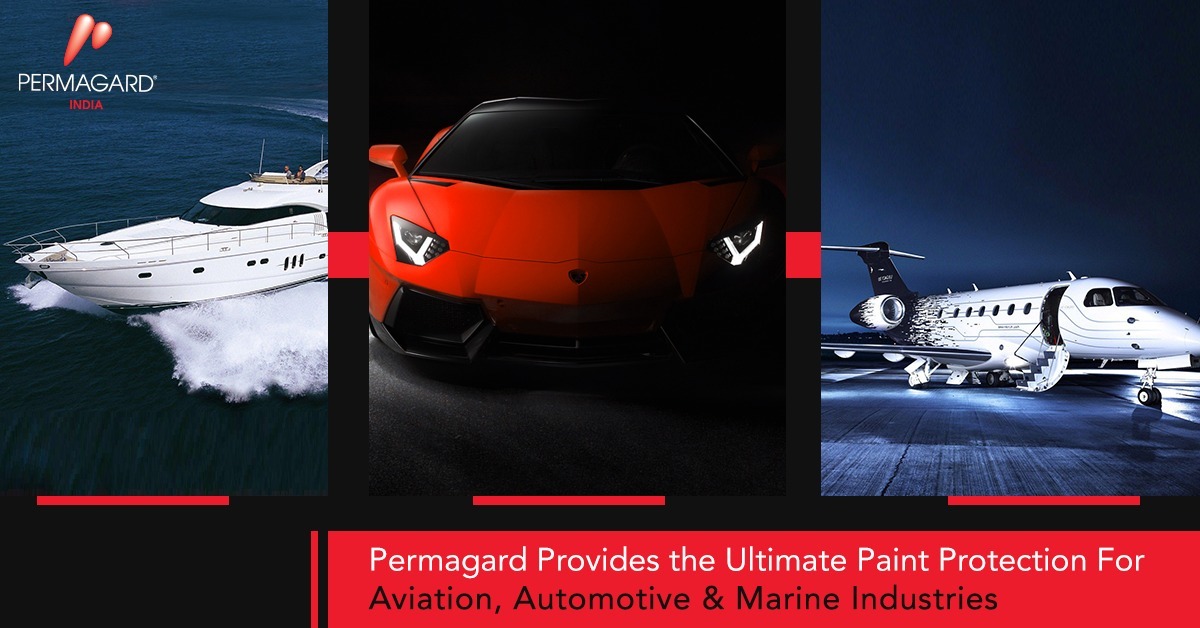 If traveling is a daily chore for you, then car paint protection becomes a necessity to prolong the car's lifespan. And Permagard is the first choice of many luxurious car brands to protect the surface paint.
Here, we have listed all that you need to know about Permagard. The following details will inform you about how Permagard's Car Paint Protection Treatment can revolutionize your maintenance schedule.
What this magic called "Permagard" is?
All kinds of vehicles need to be properly maintained and taken care of, especially the surface paint as they faced with extreme atmospheric conditions, making it almost mandatory to get it protected. Nothing really matters unless it makes onlookers turn their heads to have a second glance. Permagard is that force that leaves onlookers dazzled with its wet-look, once your car is treated with it.
Permagard provides exterior protective coatings that were initially designed to cater to the aviation industry. These coatings have been tested up to 40000 feet in -50 and +50 degrees Celsius at 850 km. The same technology is now used to protect the automotive and marine industries. For over thirty years, Permagard has been protecting vehicles globally. The journey of the company has been exceptional, diversifying products for all sectors regularly and serving clients all around the globe.
Whether on land or in the sky or over water, Permagard covers all the sectors. Advanced reactive polymer technology of Permagard is engineered to serve all purposes. The corrosion protection mechanism coupled with the hydrophobic efficiency of Permagard provides all-round protection for your car. The innovative technology works cohesively to produce effective results. It offers hassle-free maintenance of coated surfaces. This protection lasts for a lifetime.
Permagard: A snapshot of vital statistics
Permagard operates in 23 countries around the globe Has more than $100 billion worth of aircraft, cars, and yachts entrusted to its protection around the world​
It has tested up to 40,000 feet,1 million miles a year under harshest of conditions ranging from -50 to +50 degrees Celsius at 850 km/hr speeds.
Origin
Our successful journey of becoming a world leader in exterior & interior protection technology began more than twenty years ago in 1997, and global operations started from Mougins, just North of Cannes in the South of France, in 1998. Since then, Permagard has grown manifold to become global in its services to cover every continent on this planet.
For over thirty years, Permagard has been the leader through its cutting-edge research and development to become a standard in aviation protective coating solutions. All its products and services are backed with ISO14001 (Environment), OHSAS18001 (Health and Safety) and ISO9001 (Quality) certifications, to ensure vehicles are masked with the best preventative measure against all threats.
The trademark Permagard shine is the result of years of research and testing to yield a tough-as-nails protection system with a stunning, glossy look.
Permagard: Who is behind it?
Permagard is a fruitful outcome of dedicated efforts of scientists, chemical engineers, and trained applicators. The team that designed Permagard was on a mission to use the best components and sophisticated technologies. They coupled it with highly specialized manufacturing processes to design the best way to protect your car. As a result, the team delivered aesthetic protective barriers to all coated moving surfaces. Because of this precise reason, Permagard has three divisions to Protect all the transportation assets whether land, at sea or in air.

The Science Behind Permagard Paint Protection Technology
The Permagard shine philosophy revolves around a molecular relationship that results in extreme bonding, stabilizing, gloss-producing curing process, corrosion protection, and hydrophobic efficiency. Our car paint protection treatment is rather revolutionary.
Permagard coatings have polar amines with a positive charge to attract negatively charged substrates found in paints, naturally. These opposing charges bond very strongly after curing to penetrate the porous surfaces to become an integrated part of the painted surface. Further cross-linking through hydrolysis forms a water repellent polymer coating. Due to this bond, the coating remains intact on the substrate surface on which it was originally applied throughout its life without peeling or cracking off.
The Permagard philosophy is not based merely on supplying a great product but to work together over time to become a trusted partner. Due to its commitment to performance and a dedication to precision, Permagard has an industry-wide reputation of helping its partners save money through high-quality, reliable service. Permagard team includes extremely talented, senior-level industry leaders with their firsthand knowledge of the operational challenges facing dealerships, panel shops, car workshops, and franchises.
Permagard: A worldwide presence
Providing excellent service to all the major aviation, automotive and marine markets around the world, Permagard now has operations in 23 countries. The country of its origin is France with its global headquarter stationed there.
No continent of the globe has been left out of the realm of the products and services it offers from surface coatings to aircraft engine hygiene. From Santiago to San Diego, Paris to Dubai, Hong Kong to Sydney, global customers depend reliably on Permagard solution, confident of the Global standard brought by their ISO 9001 manufacturing compliance requirement. It has Boeing, Airbus, Embraer, Dassault, Gulfstream, and Cessna Textron approvals and manufactured to ISO standards.
In India Permagard's main office is in Ahmedabad with operational centers in Surat, Delhi, Kolkata, Mumbai, Indore, Bhopal.
Permagard Automotive
Permagard Automotive has a lot of products and services to offer like:
Interior Treatment For Leather & Fabric
Interior Treatment For Plastic & Vinyl
Fabric & Carpet Protection
Permagard Automotive has people with years of experience at senior positions within the automotive industry fully aware of the operational challenges faced by dealerships and panel shops. The objective is to cater to the unique needs of each individual.
The ultimate aim has always been to provide premium paint protection for luxury cars. This claim has the backing of familiar luxury brands like Porsche and Mercedes-Benz. Some of the largest privately-owned dealer groups like The Landmark Group and Benchmark Cars have reposed their trust in Permagard to meet their challenging and varied needs.
Permagard: Results & Advantages
There are many reasons behind considering Permagard as the best way to protect your car. On any exterior surface, a Permagard coating offers lifetime protection from the following.
Salt
Alkali pollution
Bird droppings
Tree sap
fine sand
Insect etching
Hard water deposits
Grease and road grime
Exhaust fumes and pollution fallout
Liquid and water-based stains
UV-ray damage
Scuff marks
Some of the other results delivered include:
Vessel maintenance reduction by 50% per annum in case of marine coatings.
Permagard marine coatings are non-toxic and environmentally compliant and contain no silicone.
Rejuvenation of oxidized coatings to a new state.
Reduced use of detergents when washing.
Protection of paint from premature oxidation, therefore extending the life of the paint.
Reduced appearance of existing fine lines and polish marks.
Protection of costly assets and their life enhancement
Brand value enhancement through visual appeal particularly for the aviation industry
Reduced cleaning time and costs, by reducing the frequency and ground time required for washes.
Reduced parasitic drag on both commercial and business jets, thereby saving fuel.
To conclude, Permagard is a world-class brand that specializes in paint protection for a luxury car. It has earned the title of 'Ultimate Paint Protection Technology' because of its unique mechanism. The implementation of the latest germ-killing technique makes this product stand out from the pack. If premium protection is what you are looking for, consider nothing but Permagard's ultimate paint protection technology.