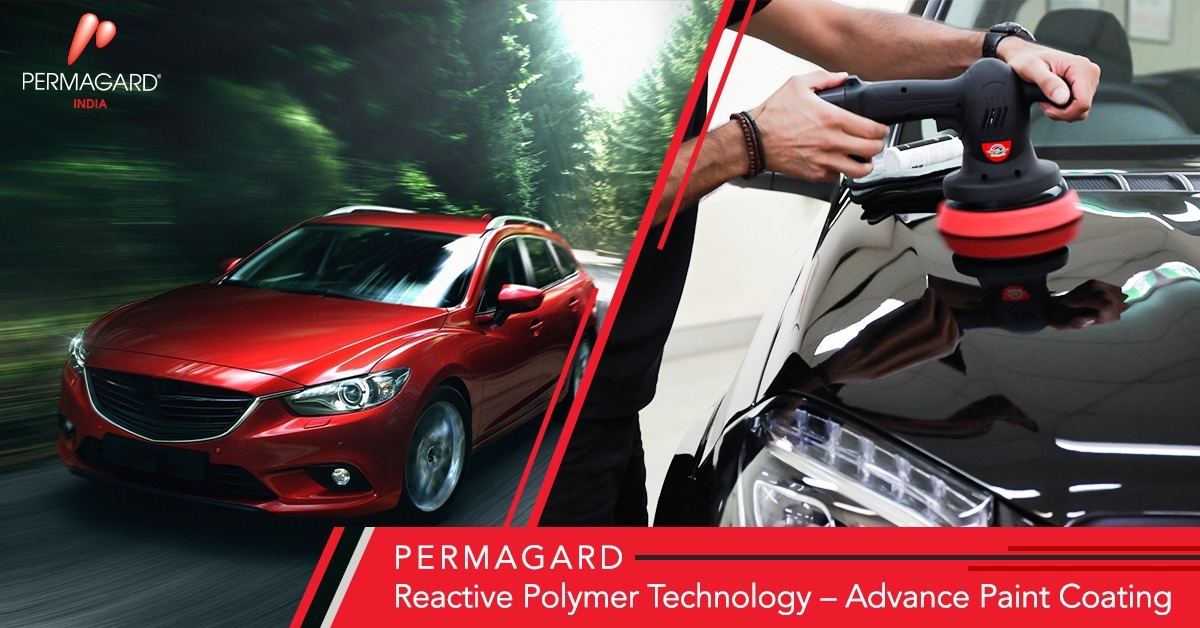 Reactive Polymer Technology : The globally acclaimed Permgard delivers superior interior and exterior protective coatings designed to meet the high standards of the aviation, marine and automotive industries. This product has been developed to seal all painted and gel coated surfaces, creating the famous PERMAGARD wet-look effect while ensuring ease of maintenance, stunning appearance and long lifespan of coated surfaces and can even withstand harsh & extreme weather conditions. It employs the technology of hydrophobic efficiency which ensures the long-lasting of the paint.
The paint and gel surfaces treated with Permagard technology are highly durable and corrosion-free. We are committed to maintaining our standards in order to deliver high-quality products, service & experience to our customers. We guarantee the best solution to our customers for the long-term protection of their vehicles. Permagard provides interior & exterior protection for automobiles, marine vessels, and aircraft.
Our international brand values the beauty, performance, and luxury of your vehicles. We provide high-quality paint protection for your vehicles, which involves advanced reactive polymer technology. We at Permagard, ensure continuous experimentation and improvement with our products to provide the best quality products to you.
What Is Reactive Polymer Technology?
Reactive polymer technology is a revolutionary technology that has been a part of Permagard for decades now. However, acknowledgment about this product is quite unheard in India as people are still not familiar with such technology and seem to be still using older methods or products when it comes to protecting their priced possessions.
Permagard aims to provide the best to its customers for all vehicles such as aircraft, yachts, and cars. We have aviation coating of excellent grade and the most advanced technology in the world. This is in order to produce the best so that we can satisfy each and every customer. Our materials are tested in some of the most trustworthy and well-equipped labs in the world. In addition to the above-mentioned factors, it is an economical choice that enhances the value of the products.
The high performance, environmentally safe protective coatings have been engineered to enhance and maintain a new-like appearance. Permagard gives you the feel of a new vehicle even if it has been a while. Further, it has been trusted to protect painted surfaces that are some of the most expensive machines in the world. It features a patented coating which is the most advanced corrosion protection technology available today, protects the vehicles from various adverse effects, climates & pollutants.
How Does Reactive Polymer Technology Work?
Permagard's "Reactive" polymer coating is applied by an oscillating (buff like) machine to the painted surface filling in the pores (valleys) of the paint creating a flat and uniform surface.
Its plasticized coating called 'Reactive' polymer because of the locking reaction that takes place at a molecular level deep inside the porous paint surface, bonding and locking the coating to the paint. The coating then begins to cure initiating a covalent reaction (bonding and tightening of the plastic molecules) in effect "laminating" the Permagard coating to the painted surface. This process occurs at a molecular level, locking the plastic molecules tightly over the painted surface completely encapsulating the paint with a plasticized protective barrier.
Once the coating has cured completely, it will harden, further helping to resist environmental damage such as bird droppings, abrasive chemicals and paint pollutants that attack a painted surface if not protected. For added protection, Permagard coatings are infused with the state of the art UV inhibitors which act like sun cream in deflecting the harmful UV rays away from the paint and back into the atmosphere. The UV inhibitors are locked into position within the durable polymer matrix.
Permagard uses environment-friendly components that are safe to use and can prevent rust and stain on your vehicles during all possible times. The technology proves to be very efficient and once the surface is treated it becomes very easy to clean. All it requires is a damp cloth to clean the surface and maintain the finish.
Benefits Of Reactive Polymer Coatings
Polymers constitute almost everything in today's world and it is a combination of the simplest to the most complex of the substances. Permagard high-performance environmentally safe protective coatings have been engineered to enhance and maintain a like-new appearance for the lifetime of the paint and it provides a stabilizing, gloss-producing curing process and corrosion protection and hydrophobic efficiency. These substances have improved and helped many products to upgrade their performances. In this section, we are going to discuss some of the benefits of using the CoPolymer coating of Permagard over products made with other materials.
It is cost-effective
Reactive Polymer coating proves to be durable and it can last for a very long period of time, which reduces the time invested in maintenance and also the requirement of repaint from time to time.
It is more resistant
Permagard's coating made with reactive polymers is resistant to chemicals and is less prone to corrosion and erosion. This has been designed to withstand even the harshest of chemical and environmental attacks thereby forming a protective layer over the surface coating of your vehicles and maintaining the gloss and shine of the products even at extreme temperatures.
This factor enables the reactive polymer coating to maintain its shape for long without turning into a pool of liquid over time. This coating by Permagard is known to be sturdy and it comes in use for a long period of time without having to face any additional problems concerning external atmospheric and physical features. This is undoubtedly the best car paint protection coating.
It does not require any finishing efforts after treatment
Reactive Polymer composites have a natural corrosion resistant technology that does not require any special galvanization to protect it from corrosion and erosion. This happens before the process of machining in order to eliminate any requirement of post-treatment after the appearance of the final product.
It is lightweight and corrosion-resistant
The reactive polymer coating of Permagard is quite light than most of the metals and this factor proves to be the major requirement of several industries. The Reactive Polymer coating is corrosion-resistant, which means that it can withstand extreme chemical torchers and can still shine as bright as new. This practice increases the lifespan of the vehicles and also avoids the heavy cost of maintenance. It is also resistant to smoke and flame.
Overall, it can be said that Permagard reactive polymer coating is quite easy to use and very versatile. It gains its marketing in a lot of industries and has proved to the best in the automotive sector, by supplying top quality materials for all sorts of products to all different types of industries. The Reactive Polymer coating is recyclable, which makes it quite useful and favorable. These benefits translate into significant savings for the operator. When it comes to protective barriers, there is no more sophisticated, scientifically sound choice than PERMAGARD.
All these factors make Permagard's Reactive Polymer technology the best car paint protection coating.