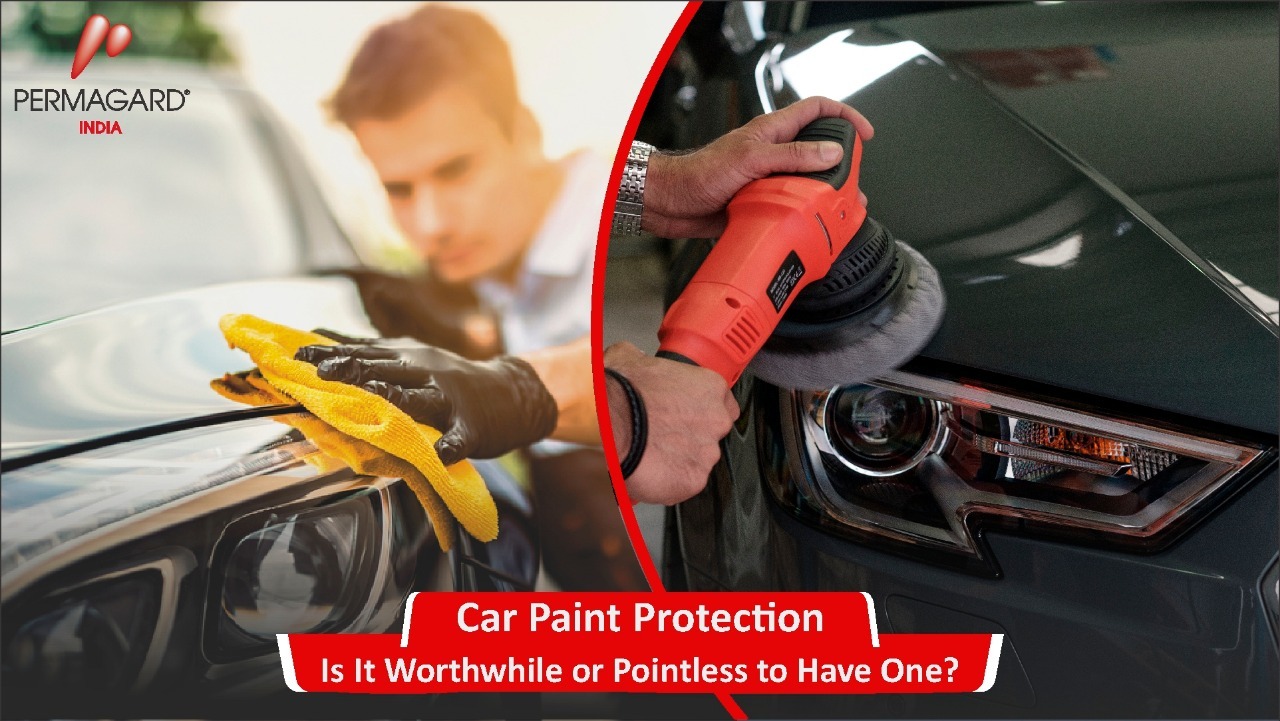 Nothing can match the happiness we get when we see a well-maintained, sleek, and shining car. Cars come under the category of our valuable possessions. As much as you love travelling in your car, you should also take the initiative to make your vehicle look sleek. They come with extensive maintenance and responsibility.
You can get your car repaired if any of its parts malfunction. But, your car's exterior also requires a much-needed touch-up over time. And for that purpose, there is no need to consult anyone but Permagard. The car paint protection treatment provided by the automotive maintenance expert is something your car needs.
How does your car suffer paint damage?
● If your car remains parked for long hours under direct sunlight, the car paint may become weak over time and peel off.
● Sometimes, you may park your car in such areas where temperature fluctuations differ. Then the colour will tend to crack up because of high temperatures.
● External substances, including pollution fallouts, often causes stains that can damage the paint of your car. The copolymer technology works to repel such stains.
● Gasoline and brake fluid also destroys the paint.
● Cars parked in or near construction sites suffer a lot of damage due to dirt and dust. Construction material damages a vehicle and can leave a permanent stain as well.
● Marks or scratches from blades, scissors, knives, or stones can damage car paint easily.
Why does your car need Paint Protection?
Every day, your car is exposed to external elements that can destroy your car. Do not wait for the paint to wear away. It is always a good option to be safe before then, sorry. Nobody can deny the benefits of car paint protection. Paint protection is the right way of keeping your car's exterior in top condition. The patented technology of Permagard is the best option for protecting car paint. This is a transparent coating applied over the top of the car's original paintwork.
Untreated paint scrubs on the car's paint can be damaging to the exterior body of the car. A premium product like paint protection by Permagard is a viable option. It is a safe and convenient method to protect car paint. Keeping in mind these types of damages and strain that your car's exterior goes through, car paint protection becomes a must. Let us discuss the different kinds of car paint protection available:
Types of Car paint protection
There are different kinds of car paint protection treatments. It can be in the form of waxes or sealants or the newer ways of glass and spray coatings. Older paint technologies used chemicals and polymers that were harmful to the people and the environment. They contained two harmful ingredients that were lead and solvents. Lead is very toxic to humans in any dosage. Injurious solvents like VOC are bad for the environment and specifically the Ozone layer. This has led to the progressive development of innovative water-based car protection paints. Reactive polymer technology safeguards your car with the help of a chemical bonded defence mechanism. It also eliminates the aspect of health hazards by using safer chemicals and an invisible guard.
Polymer protection
This scientific technology works on the principle of directly repelling airborne pollutants. It does away with the risk of letting the dust settle on the car and then remove it. Any sort of contaminant is neutralized on the spot with the help of a glossy, protective barrier. The impact of heavy particles can be repaired using cosmetic sprays.
Advantages of using Polymer technology
It eliminates pollutants before they settle on the car's exterior.
All the ingredients used are biodegradable and eco-friendly.
It makes the process of maintenance much easier and faster.
The neutralization of contaminants happens instantly.
The chemicals used are completely safe for humans, unlike other technologies.
No extra work is required. Just getting your washed regularly does the job once the polymer coating is applied.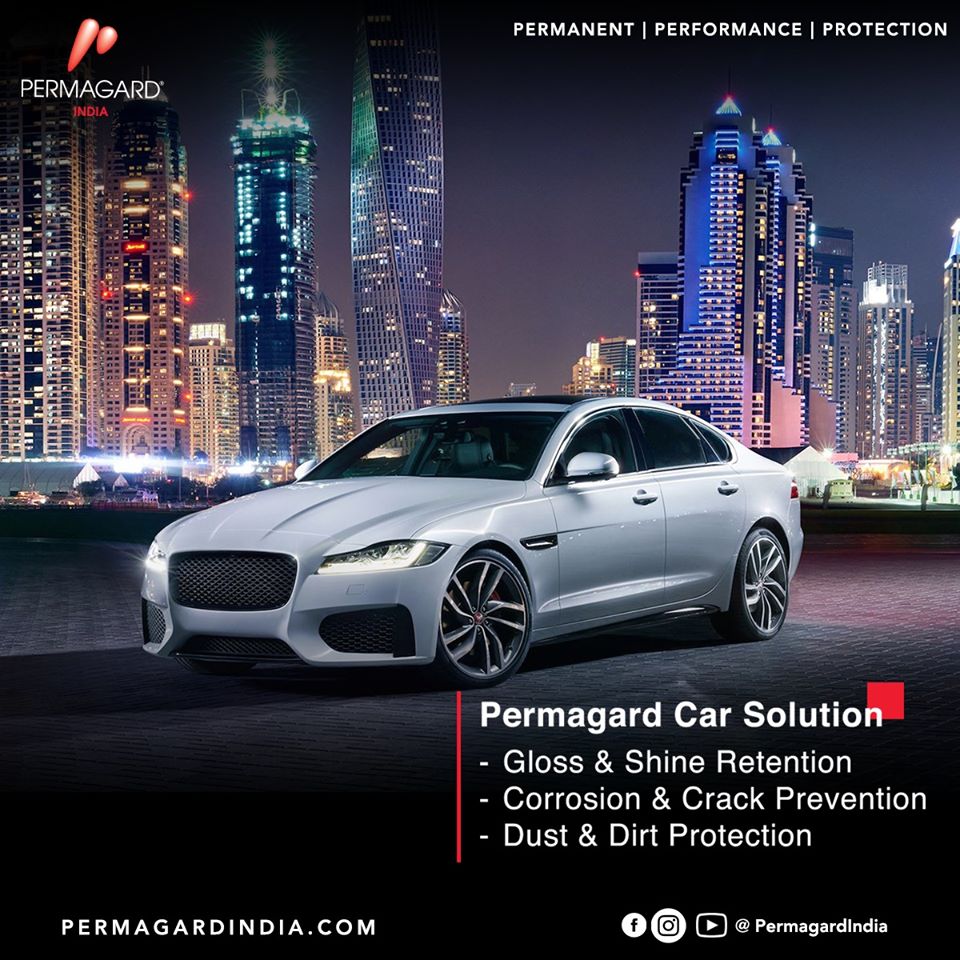 Ceramic or Nano-coatings
Another form of car paint protection is glass coatings. They are also known as Ceramic or Nano-coatings. They are silica-based solutions that create a protective glass coating on the surface of the car. This is an earlier method of paint protection, and customers do not prefer using ceramic coatings nowadays — the reason being the availability of such advanced technologies like that of Polymer Protection.
Waxes and Sealants
You can use waxes for gloss on the car's exterior surface. Sealants are a step ahead and are a more durable form of waxes. They provide an aesthetic look to your car's exterior. However, the gloss and shine using this mechanism come at a cost. There is a considerable risk of the paint being damaged by the usage of waxes, especially if you own a luxury car. High-range cars need a more premium protection scheme like Permagard's Polymer Technology.
Added benefits of using Polymer Protection
Damage to a car's paint is a certain occurrence and will happen to your car, sooner or later. New car buyers often get anxious about even the slightest scratch on their dream vehicle. Car Dealers get keen to sell the latest paint protection covers to buyers who want to keep their new car looking spick and span. The benefits of car paint protection are manifold. The best option is to rely on the Reactive Polymer technology by Permagard for hassle-free maintenance of your car. Waiting for your car to get damaged to protect the paint is just a wastage of time. Our busy lives do not allow us to put in extra efforts for the protection of our car. Polymer technology does the job for you.
You will always like to have your car shining and glossy as a new car that comes out of the showroom. If you want to keep the exterior of your car in good condition always, paint protection using Polymer technology is a good idea. Some more benefits your car will get are as follows:
● The polymer technology will shield your car from sunshine, acid rain, bird droppings, or other road stains.
● The car's paint protection coating backed by polymer technology will protect it from weather erosions or toxic tumbling, and chemicals.
● A good layer helps to maintain the sleek and glossy appearance of your car.it will increase the durability of the paint. It also enhances the resale value of your car.
● You only need to apply the polymer coatings once as they are durable. So, you don't need to worry about frequently polishing and waxing your car.
● This makes it easier to clean your car and reduces the possibility of any build-up of dust.
● The paint protection cover provides cost-effective car maintenance as it comes with a long or a lifetime warranty. The polymer technology also cuts down frequent cleaning and thus saves a reasonable time.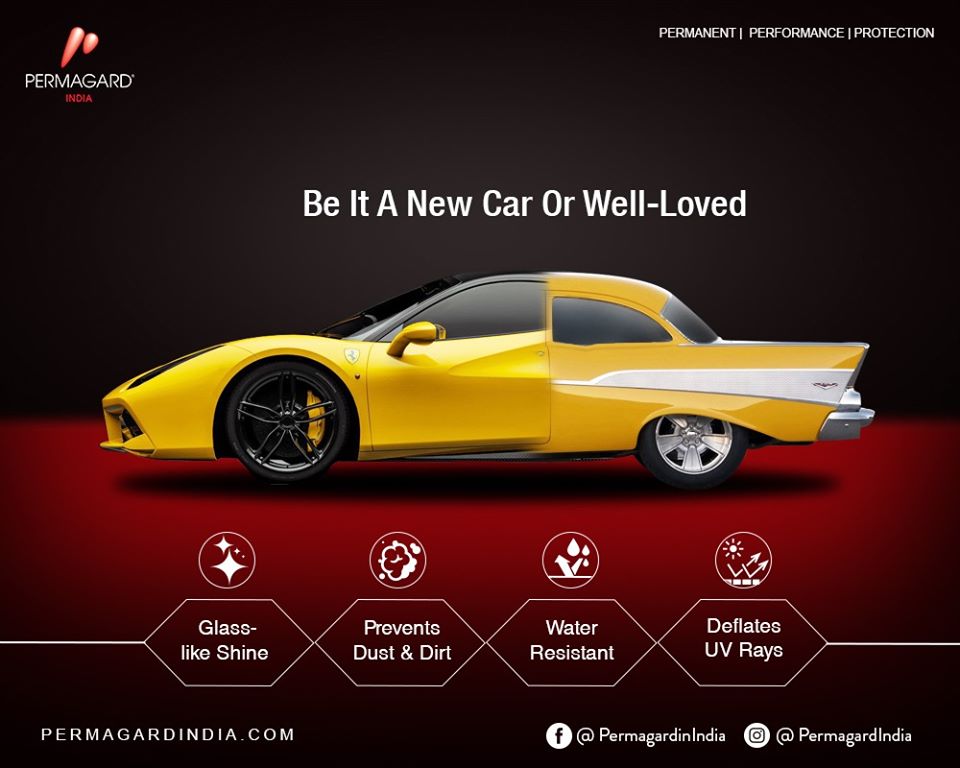 You are your best Judge.
The need for a protective coating for the paint of your car's exteriors will thus depend upon the condition in which your car stays. It will also greatly depend on how you use your car. If you are in for a low-maintenance service, look for a hassle-free one-time investment. This will keep your car as new. In such cases, you can confidently opt for a scheme to protect car paint.
You should be the best one to decide whether your car needs a paint protection cover or not. The best thing to do is to keep an account of the distance your car covers on a regular basis. This will clarify your doubt on whether you should go for paint protection or not.
The Current Scenario in the Car Paint Protection Job
Every car manufacturer now uses water-based paints due to new laws banning older paint technologies. Older car paints that used lead and oil did provide a perfect glossy finish. Unfortunately, it is not possible to sustain that same gloss with 'water' based paints.
Also, there are UV absorbers in water-based paints. These break down quickly when exposed to strong sunlight for long hours. This makes them lose their protective functionality from the coating over time. India has a high level of damaging ultraviolet rays. This means our vehicle paintwork deteriorates quickly due to ultraviolet damage from the sun. This is the reason why we recommend using a proven paint protection technology such as Permagard, for every car in India.
Conclusion
We, at Permagard, are committed to providing the highest quality to our customers in everything that we undertake. Our eco-friendly products are designed tested and maintained according to the highest health and safety standards. They are justifiable, regarded as the best car paint treatments, by our customers. That is why we are proud to mention that Permagard is accredited with ISO14001 (Environment), OHSAS18001 (Health and Safety) and ISO9001 (Quality) certification.